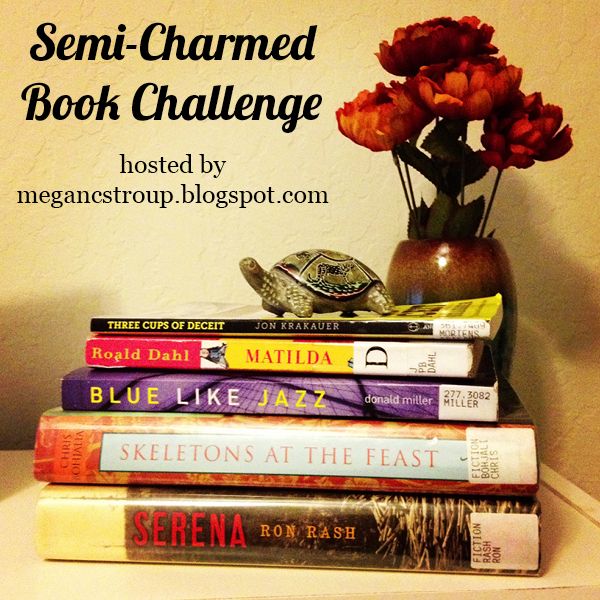 Megan of Semi-Charmed Kind of Life
is hosting another book challenge. I finished (and thoroughly enjoyed)
the summer challenge
, so I'm excited to participate in this,
the autumn challenge
.
I rarely plan out what I will read in advance, but I thought this challenge might be good for reading many I have in my private library. I found I enjoyed looking for these books in advance, and now I won't have to struggle to remember what book came to mind when I saw the topic!
(note: I decided to just keep to this page, instead of making a new one, so, I'll be replacing my planned books with the books I actually read.)
Rules:
The challenge will run from October 1, 2013, to December 31, 2013. No books that are started before 12 a.m. on October 1 or finished after 11:59 p.m. on December 31 will count.
New rule:up to three books for the challenge can be rereads.
Each book must be at least 200 pages long. Audio books are fine, as long as the print versions meet the page requirements.
The challenge categories:
5: Read a book that does not have "the," "a" or "an" in the title.
Overture to Death by Ngaio Marsh (318 pages, audio, October 2013)
10: Read a book that has been featured in Oprah's Book Club.
Planning to read A Tale of Two Cities by Dickens or Open House by Elizabeth Berg (272 pages)
10: Read a book that takes place in the state where you currently live.
The Highly Effective Detective Goes to the Dogs by Richard Yancey, Tennessee (336 pages, November 2031)
15: Read an epistolary novel.
Anne of Windy Poplars (not entirely epistolary, but mostly) by Lucy Maude Montgomery (301 pages, October 2013)
15: Read a book first published in 2013.
Princesses Behaving Badly (will be published November 2013; I read the ARC) by

Linda Rodriguez McRobbie (288 pages, October 2013)

15: Read a book with something spooky in the title.
Possibilities: The Phantom Tollbooth by Norton Juster (272 pages), The Phantom of the Opera by Gaston Leroux (288 pages), The Phantom Lover by Ruby M. Ayers (262 pages), The Haunted Pajamas (374 pages) by Francis Perry Elliott or The Haunted Hotel by Wilkie Collins (336 pages, reread)
20: Read a book with "air," "water," "earth" or "fire" in the title.


Several possibilities: Hot Water by P.G. Wodehouse (256 pages), From the Earth to the Moon by Jules Verne, (240 pages), Running Water by A. E. W. Mason (256 pages) or The War in the Air by H. G. Wells (389 pages)

20: Read a book on which a television series has been based
Several Possibilities: Orange is the New Black by Piper Kerman (327 pages, series of the same name), Little House in the Big Woods (256 pages, Little House on the Prairie series, reread), a Perry Mason mystery, one of the Saint mysteries, Spencer's Mountain by Earl Hamner, Jr (basis for the Waltons), or The Thin Man by Dashiell Hammett (208 pages, series of the same name).
25: Read a fiction book that has someone's first and last name in the title
The Lives of Christopher Chant (reread) by Diana Wynne Jones (240 pages, audio, October 2013)
30: Read two books by the same author.
Toward Zero (259 pages, October 2013, audio) and Crooked House (260 pages, October 2013, audio) by Agatha Christie
35: Read a fiction and nonfiction book about the same topic.
The Silver Linings Playbook by Matthew Quick (304 pages, October 2013, audio) and Marbles: Mania, Depression, Michelangelo, and Me: A Graphic Memoir by Ellen Forney (256 pages, November 2013); topic: bipolar disorder
To save space, I've abbreviated the rules and categories. Complete rules and details on the categories can be found here.
135 points