Books Read: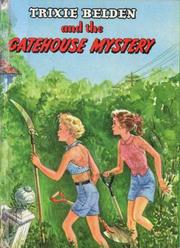 In Times Like These (1968) by Emilie Loring
As I mentioned a month or so ago, I bought a huge box of Loring novels out of nostalgia. I loved them as an early teen. The first one I read, Keepers of the Faith (1944), was simply terrible. Not so much the plot (which was typical Loring), but the writing--it was DREADFUL. This one was more what I remembered her novels to be like; she's no Nabokov, but she (generally) writes a readable, pleasant, if predictable, fluff novel.
The Gatehouse Mystery (1951) by Julie Campbell
As I've mentioned earlier, I'm rereading this series; it was my favorite as a child and I recently purchased a complete set. I'm surprised at how much I am enjoying them, even as an adult.
The Frightened Wife and other murder stories (1953) by Mary Roberts Rinehart
Some of these stories were particularly good, others just good. I enjoy sensationalism, and Rinehart did it well.
Great Black Kanba (1944) by Constance and Gwenyth Little
Another gem by the Little sisters, and my favorite so far. I love the humor in their books, and the mysteries are generally well-plotted. Excellent reading!
The Best Man (1914) by Grace Livingston Hill
A story typical of it's time with a strong hero and delicate heroine, and a gentle and improbable plot. Hill's novels are part of my nostalgic, return-to-childhood reading, as they were a favorite in my early teens.
Breakfast at Tiffany's (1958; novella) by Truman Capote
Will write up my thoughts soon, but can say I was disappointed.
Audio Books:
Postern of Fate (1973) by Agatha Christie
This is the final Tommy and Tuppence novel, as well as the last book Christie penned. For the first time, I was truly disappointed by one of her mysteries. It was often repetitive and convoluted and seemed to contradict information about the Beresford's given in earlier novels. On top of that, Hugh Fraser (my all time favorite audiobook reader) did a barely passable job. It was often hard to tell who was speaking, which is so unlike his usual talent that I was shocked.
The Two Destinies (1876) by Wilkie Collins
I am not ashamed to admit that I adore the novels of Wilkie Collins. While I've yet to become a fan of Dickens (I'll be willing to give him yet another try later in this decade of my life), the sensational (as a genre, not just an adjective) fiction of Collins totally immerses me. Filled with the supernatural, the inexplicable, with thwarted love, and thoroughly Victorian heroines, this one is typical of his work and I loved every minute of it. (Samuel West did a sterling job reading it, too.)
The Colour of Magic (1983) by Terry Pratchett
The Light Fantastic (1986) by Terry Pratchett
I'm rereading this favorite series through audio book. The first two are, as fans know, not a true example of his talent, but they are good background for the series and still funny as all get-out (whatever that means).
Murder is Easy (1939) by Agatha Christie
Despite having read this before, and being fairly certain of the identity of the murderer, I still found myself wavering under the clues.
The Girl in Blue (1970) by P.G. Wodehouse
A non-Jeeves novel that was light and fun; typical Wodehouse.
The Adventures of Sherlock Holmes (1892) by Sir Arthur Conan Doyle
I think that Doyle is at his best writing short stories, at least as far as Holmes is concerned.
Brideshead Revisited (1945) by Evelyn Waugh
I can not express how much I love this book. I have read it numerous times; it's one of my top five favorites,. This isn't typical of his other works (which I still enjoy) but is much more introspective and exquisite. If you've not read it, you should.
Equal Rites (1987) by Terry Pratchett
The Discworld evaluates gender equality and Granny Weatherwax is introduced; love this one!
The Hidden Staircase (1930) by Caroline Keene
I continue my Nancy Drew refresher course. . . It's no Christie, but it kept me entertained.
Mort (1987) by Terry Pratchett
Another reread of the Discworld series--my literary comfort food. Death takes on an apprentice but, naturally, things don't work out quite the way either planned.
Past Tense (2010) by Catherine Aird
She writes with a style similar to P.D. James, only a little more on the cozy side. I had the solution figured out early on, but it was interesting to see the story evolve.
The Case of Jennie Brice (1913) by Mary Roberts Rinehart
It started off with the solution obvious, and yet took enough twists and turns to make it an interesting tale.
The Seven Dials Mystery (1929) by Agatha Christie
I'm not usually a fan of international conspiracies, but was pleasantly surprised by both an engaging plot and an unexpected ending.