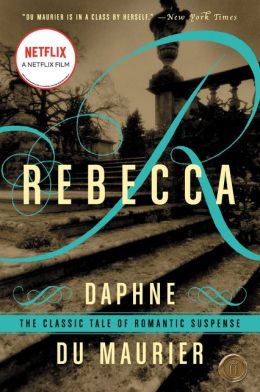 Missed adding this one to my May list somehow, but I reread
Rebecca
(if that is what one can say when one listens to an audio version of a book previously read) by Daphne du Maurier. This is one of my favorite books. I've lost count of how many times I have read it. I love how "the new Mrs. de Winter" is never actually named; for some reason, that adds so much to this book for me. Du Maurier is one of my top ten favorite authors, and this is her best!
I also managed to leave out
Grey Mask
, which I read in mid May. This is the first in the Miss Silver series by Patricia Wentworth. It wasn't particularly memorable, but interesting enough that I will probably read more by Wentworth when I run low on vintage mystery authors.
Now, on to June:
Books Read:
Down Among the Dead Men (1961) by Patricia Moyes
I couldn't stop myself from running straight to the shelf for the next in this series, after I finished the first. I don't know how I have read mysteries for nearly thirty years and yet was never introduced to her! This one was as good the first: good plot, well developed characters and a satisfying solution.
The Black Thumb (1942) by Constance and Gwyneth Little. These sisters became my favorite mystery writing duo from the first page of the first one I read. This second one solidified it. The books are hilarious! Best of all, the plot/mystery doesn't suffer from the humor. It's a believable, solid and well-written mystery. I was uncertain until the end, worried about my favorite characters, and giggling the whole way. Loved it and will be reading more!
8 Faces at 3 (1939) by Craig Rice
The first in the John J. Malone series which was extremely popular in the 1940's. I was wishy washy about it at first, but did enjoy it. The plot was tight, the mystery solid, and there were just enough surprises and unknown factors. I was turned off by the amount of drinking done by the three main characters--why one of them didn't die of alcohol poisoning before the resolution is the main mystery--but once I started skimming over all the references to "rye", I was able to settle in and enjoy the story.
Why Shoot a Butler? (1933) by Georgette Heyer
I am a long time fan of Heyer's Regency novels, but this was my first time reading her mysteries. I wasn't impressed with the plot, but I did enjoy the dialog (always a strong point for her). I'll probably read more of her mysteries over time because I have such a fondness for Heyer and 1930's house party mysteries, and not because of this book's merit.
Murder by Experts (1936) by Anthony Gilbert
At times a bit muddled and/or stilted, it was still interesting. Reads more like a first novel, though she had written several by then. I'd still be willing to read another, though, because it was certainly clever. Also, I by far prefer a mystery that starts some time before the actual crime and gives me time to know those involved, which this was; apparently many of her novels are like this. (Gilbert is a psuedonym for Lucy Beatrice Malleson.)
The Patient in Room 18 (1929) by Mignon Eberhart
This is my first time reading any mysteries by Eberhart, and I enjoyed her writing style and the characters she developed. The solution was a bit muddy in parts, though that could've been my fault as I made myself stay awake to finish.
The Norths Meet Murder (1940) by Frances and Richard Lockridge
I liked the Norths and their interaction with each other, but I found the prose to be mindbogglingly dry and tedious. This was the first of what became a popular series, so the Lockridges must have gotten better with practice.
Audio Books:
Sleeping Murder (1976) by Agatha Christie
Another delightful Miss Marple. This one I either had read before or was clever enough to figure it out early on; didn't hamper my enjoyment, though.
A Christmas Journey (2004) by Anne Perry
A novella with a social "crime" to be sorted out, set in Victorian high society. It was okay, but would have been better if it had been expanded into a full novel.
Flush (2005) by Carl Hiaasen
This is a Hiaasen juvenile fiction. It's typical Hiaasen (taking place in the Florida Keys with the plot revolving around bad guys hurting the environment) but toned down for kids. I enjoyed it, maybe not as much as I do his adult fiction, but it was still good.
Wish You Were Here (1990) by Rita Mae Brown
The animal interactions were extremely well-written and fun; the mystery was okay, especially for a first, though it was apparent early on "who done it". I found both the foul language and the "divorce issue" overdone and tiresome. The was one plot point in particular that was made much of but not explained and she made a glaring error about firearms. Finally, while it's her novel and she can rant on whatever she wants, I just didn't see how the anti-religion discussions advanced or enhanced the plot. Despite my complaints, I still probably would've read more in the series because I loved the pets. However, regardless of the fact I can find talking pets believable, I can't buy into multiple murders and high profile crimes conveniently taking place in a small town. Come on y'all, even Nancy Drew had to have more scope than River Heights; you certainly can't expect an adult reader to think some twenty big mysteries could happen in tiny Crozet, Virginia!
The Secret of Chimneys (1925) by Agatha Christie, read by Hugh Fraser
This was an truly enjoyable, highly improbable, country house mystery that turned out to be an intrigue of international proportions. I loved every minute of it, especially as it was read by Hugh Fraser. He reads most of the Christie audio books (as well as played Captain Hastings to David Suchet's Poirot) and he is simply magnificent. If you only listen to one audio book, make it one read by Fraser!
Innocent Blood (1980) by P.D. James
This is referred to as a mystery, but it's more of a thriller. The plot and writing were strong, as is to be expected from Dame James, but somehow I found it didn't live up to her other novels.
The Enchanted April (1922) by Elizabeth von Arnim, read by Eleanor Bron
Reread of beloved classic; it's gentleness and story line reminds me of an Austen novel. Love it so! Eleanor Bron was excellent. (If you are interested in the lovely book, please don't watch the movie!!)
The Iron Hand of Mars (1992) by Lindsey Davis
Loving ancient history, it's no wonder that I've loved this series. This is a reread, as I'm catching up with the series; I'm fairly certain this fourth book was as far as I got.
The Secret Adversary (1922) by Agatha Christie
Another reread this month; this was the first Christie I read and began my love of her novels. It's another highly improbable and yet thoroughly enjoyable read.
Notable Failures:
Beautiful Blue Death by Charles Finch
I made it 23 minutes into this one and was so appalled at the historical inaccuracies in a so-called "historical" Victorian mystery that I gave an audible grunt of distaste and turned it off. I can't believe how highly recommended it comes, nor the fact that it is the first of a growing series. Frankly, I can't believe it got published at all. Is it a parody and I just didn't get the joke?
Life After Life by Kate Atkinson
I loved the first several chapters. It's a bit hard to explain, but it follows Ursula's life and each time she reaches a point where she could die, she does, then her life starts again, skips up to the point where she dies and she makes a different choice and doesn't. Though, sometimes she does, and has to try again. (It took several tries to get through that influenza epic after the Great War.) She doesn't actually know that is what she is doing though; the author just picks back up. It was reminiscent of choose-your-own-adventure novels, or of playing a RPG and starting back at your last save. Her early life was delightful and I was thoroughly enjoying it. Then some bad decisions happened and she endured rape and spousal abuse and I was just hoping she'd finally die. She did, but after that, I was soured on the whole experience. I listened a few more hours, but her character was less likable after she took up with a married man and. . . well, I stopped after around ten hours, despite having only about four left to go. It's rare for me to quit so far into a book, so that says a lot.
Deep Dish by Mary Kay Anderson
After listening to Savannah Blues, actually enjoying it and going so far as to admit it, I decided to give another one of her novels a try. I listened to about half an hour of this before I quit. Some really un-lively conversation and dull prose going on there, y'all.